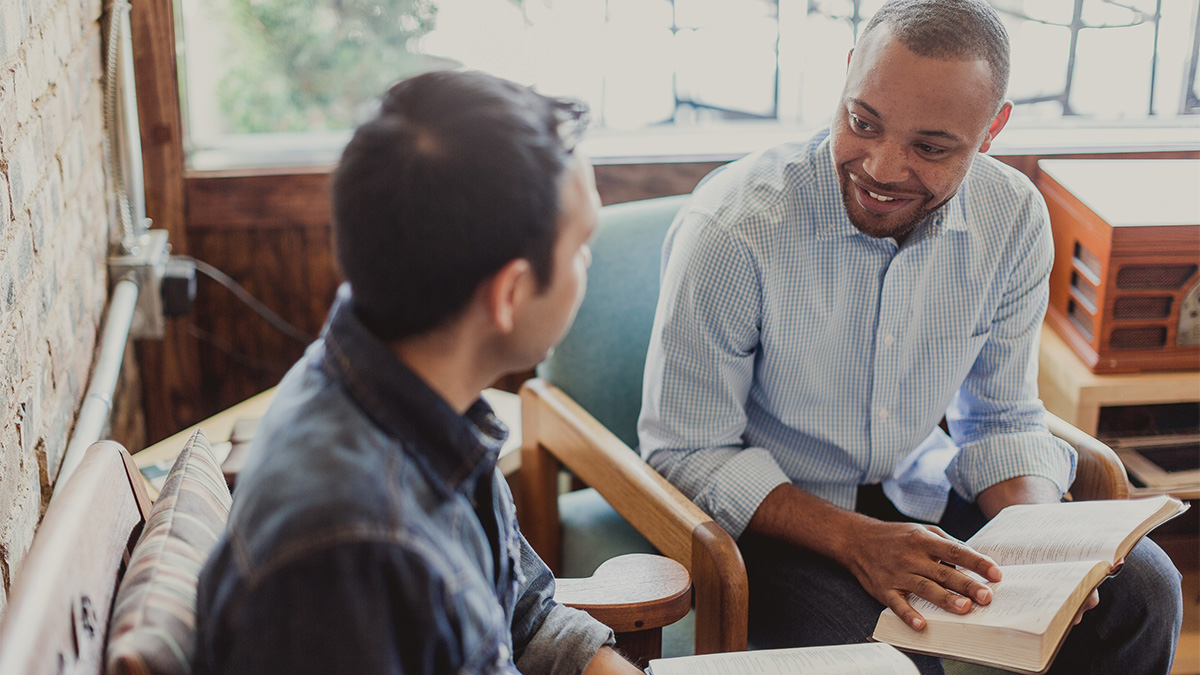 Scott, Bill, Juanita, Dennis, Sean, Beth, Jim… this is a short list of people in my life whom I have referred to as "mentors." I believe the Bible encourages mentoring, shepherding and what I would call "ride-along relationships" (Titus 2:2-3, Proverbs 27:17, 2 Timothy 2:2, Psalm 71:18, 1 Thessalonians 2:8, Luke 6:12–13). Mentoring is a big topic right now. I've had a lot of people ask me: "How do I find a mentor?" Here's some thoughts I have on the subject…
There is No One Way
When people ask me: "How do I find a mentor?" it usually leads to a conversation, not a clear answer. There are different approaches, books, programs, and non-programs for mentoring. Any one program, group, or book, will necessarily exclude a large number of people because mentoring is about people and people are so diverse. This doesn't mean we shouldn't read, be a part of something, or look for a process. Just remember that everybody's "I found it!" can be different. I have met mentors in formal groups, informal relationships, dinner parties, and formal business referrals. It's less about THE WAY to find a mentor and more about paving your own path.
Pray for Awareness
Finding a mentor is more like dating than matchmaking. It's about looking around and noticing the people God has already placed in our lives. Sometimes they are right near us but we are not paying attention, other times they are one person removed. Awhile back I approached someone about mentoring me and he said, "I'd like you to meet this person." That was the person I ended up meeting with. Pray that God would help you notice the people around you… that person (or people) may be someone you pass in the hall every week.
Rethink Your Idea of a Mentor
What is a "mentor." Even the word "mentor" throws potential mentors off and I'm super cautious about anyone who says to me, "I would like to mentor you." What are you looking for? An older spiritual friend with life experience, a vocational/professional wisdom, someone to help you think through a decision. Sometimes we want these to all be the same person. This has never been true with me. Ask me who my mentor is and I will say, "Which one do you want to hear about?" Rather than "mentors" I think of these people as friends who are little bit further down the road than me in different areas of my life. Not all of them meet the same needs in the same ways.
Be Intentional about Meeting People
A great way to find a mentor is serving with other people. Join a team at work, church, or in the community where you'll work with different people of different ages and backgrounds. When I first became a Christian, I joined the parking lot team at our church. I served with two older men and they became mentors for me. Joining a team can also help us see potential mentors in action as they relate to different people. If serving with others doesn't sound right to you, it could be that your desire for a mentor might be more a desire for a counselor or therapist. Consider finding one of those too!
Expect Cross-Cultural Noise
Mentoring is about finding people who are "a little further down the road," which often means a little older. Age, personality, and life experiences can lead to differences in perspective and approach. Here's some examples: Some people value organization, while others like things more "organic" and flexible. Some like privacy, others jump to high transparency. Some want one relationship, others like many voices. Some believe there is a "right way" to be a man or woman, others believe there is no "right way." Expect the differences, talk about them, and embrace the differences that will help you get the most out of the relationship.
Work Harder Than Your Mentor
I used to want a mentor to pursue me and know what I needed, but I realized this was kind of passive. The best stuff out there on mentoring says: prepare before you meet, come with questions, have things you'd like help with, know what you would like to explore, be open to the moment, but make it easy for your mentor to be his or herself by letting them know what you are looking for in the relationship. The people who will help you best move forward in your life are forward-moving people and that means that their time is important and they want to make the most of it. Honor that.
Be a Mentor
Many of the books, programs, and groups out there are not about how to find a mentor, but how to be one. Being a mentor (or spiritual friend, coach, someone down the road) is sometimes the best way to know what you need, what you are looking for, and kind of mentor you are. It's also a great way to make your life not about you, but others. Being a mentor not only makes sure that you are investing in others but will light a fire in you to have people that are "pouring into you" and helping you be there for others. Personally, I'm not sure I'm any good at mentoring, but that's why I keep reading, building relationships, and giving away what I know. Thank you for the grace you continue to show me in this.
Here's a few articles I've read that might help you:
https://www.christianitytoday.com/pastors/books/soulintegrity/pstsoul5-10.html

https://www.christianitytoday.com/women/2014/may/not-all-older-christians-want-to-be-your-mentor.html

https://www.forbes.com/sites/ianaltman/2017/09/12/the-dos-and-donts-of-mentoring/#2c7c66fa493c

https://ed4online.com/blog/9-types-mentors-have-your-life

https://ministrytodaymag.com/leadership/higher-education/20395-finding-the-spiritual-mentor-god-has-for-you

https://www.entrepreneur.com/article/294093

https://www.lifeway.com/en/articles/homelife-10-keys-to-finding-the-mentor-you-need

https://www.forbes.com/sites/annabelacton/2017/07/25/why-you-need-a-mentor-and-how-to-get-one/#32ab62ff73cc

https://www.inc.com/john-rampton/10-reasons-why-a-mentor-is-a-must.html